Yemen FETP Beats the Test of Time
"As an advisor, I learned early on to be deeply involved in the work of residents. I learned to push them, encourage them, and to provide them with the guidance, support, and understanding they need to succeed, but most Importantly, I learned to be there and to help them overcome challenges," said Technical Advisor of the Yemen Field Epidemiology Training Program (Y-FETP) Dr. Abdel Wahed Al Serouri when we asked him what the traits of a good mentor are.
The Y-FETP is one of the newer programs operating within the EMR, only launched three years ago. However, Dr. Abdel Wahed had only joined the team in 2013. His involvement with the Y-FETP residents came into effect after attending the Advanced Epidemiology training for the first Y-FETP Cohort that year. At the time, the post of Technical Advisor was not assigned to anyone, but it was sensed that the residents needed his support. Drawing on his innate sense of helpfulness, he diligently offered them guidance, but it was not was not until April 2013 that he was officially assigned as the Y-FETP Technical Advisor, following his attendance of The 1st Arab World Conference on Public Health held in Dubai that month.
From day one, he realized that a lot of work needed to be done. "I joined the team in May 2013," he said, "only to realize that the residents had not fully completed any of their graduation requirements, which were due in February 2014."
Taking on a proactive approach, Dr. Abdel Wahed Al Serouri, decided that a plan needed to be put in place. "Our residents did not even start their planned study project, so we set off to give them a crash two-day course in protocol writing in September 2013. Of course, that left us with only 3 months to finish everything else." He added. On that same month, Dr. Mohammad Qayad joined the Y-FETP, taking on the post of Resident Advisor.
Bringing with him his part experiences from his work at the Center for Disease Control and Prevention (CDC), and a passion to work in the field of International Health, he was eager to see this endeavor succeed. "Before taking on this post, I had worked for two years in Saudi Arabia at the National Guard Health Authority within the Department of Family Safety. I then did a training session for the Y-FETP second cohort in May 2013, before joining the Y-FETP in September that year. I then officially took on my responsibilities as Resident Advisor two months from my joining date, and following an induction course I had to sit through."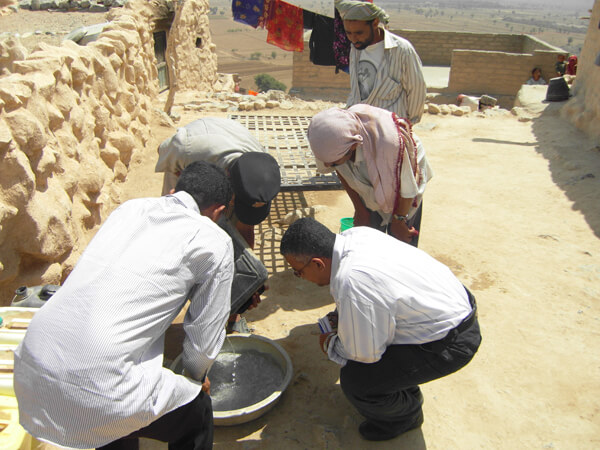 Beating the Clock
"First things first, we felt we needed to set a clear deadline for our 12 graduates, so we set that date to be February 26th 2014, coinciding with our First National Yemen Field Epidemiology Program Conference. Our graduates were not only set to celebrate their graduation during that event, but they were also to present their work as well. To add to the challenge, we were also expecting our second cohort residents in January 2014, and we were to assign them to programs following their advanced training which they sat through in December 2013. Seven of our First cohort graduates were also to give presentations at EMPHNET's third regional conference to be held in Morocco in December 2013,"  Dr. Mohammad Qayad added, " so indeed we had a lot of work to do . I would say we were up for the challenge. If you ask me how we succeeded, I would reply that it was our and our residents' persistence, sacrifice, and strong will that made us meet these tight deadlines. It is not enough to have committed technical and resident advisors on board, as a great portion of this success goes to our residents' hard work, and their willingness to take guidance and to be pushed to their highest potential."
"They had to deliver three reports, and a presentation at the end of the program, but they worked hard and we worked hard, all putting in 7-day weeks. Looking back, I can say that the feeling of achievement one gets at the end of this all is worth the effort. It is really fulfilling. " he further stated.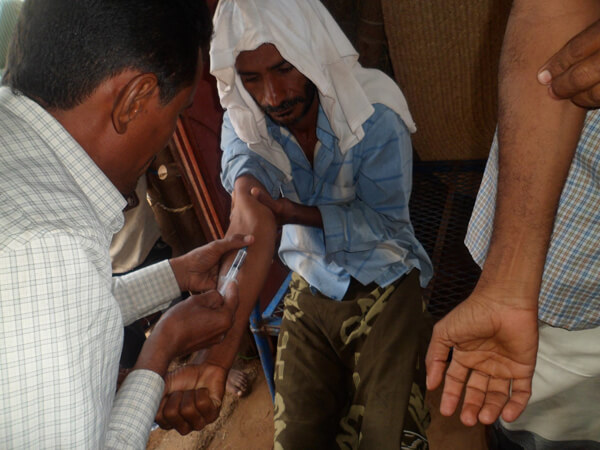 Shared Understandings
"Our role went beyond academic and technical guidance," Dr. Abdel Wahed Al Serouri said," After all, we had many of our residents leaving their families in the rural areas and governorates to join the Y-FETP. This meant we had to sometimes take on the role of 'father and son' and we had to give them the moral support they need. We were their family away from home, and we had to maintain that role at all times. In some cases, we had to work with poor language competencies, which meant that we had to keep all channels of communication open. We had to provide a friendly environment in which our residents can accept our edits, and our recommendations on their reports."
Dr. Mohammad Qayad further added that the Y-FETP was even lacking in terms of logistical requirements at the time. "While working with the first cohort, we didn't even have an office. We were working from the office of the Director General of the Disease Control and Surveillance at the MOPHP. It wasn't until May 2014, that we got a space of our own."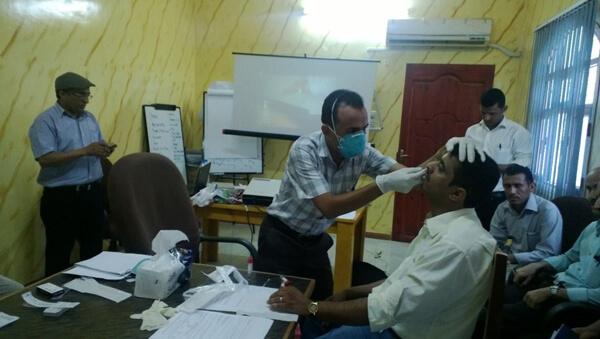 That Was Then!
Indeed, the Y-FETP had come a long way from those modest beginnings. It is set to accept the third cohort residents in November 2014, while moving smoothly with the requirements of the second Cohort. According to Dr. Mohammad Qayad, the second cohort are given a strict schedule where they are to complete one deliverable every three months.
Future plans for the Y-FETP also include an outbreak investigation to be conducted in Addis Ababa, as well as an advanced Epidemiology course to be conducted in September 2014.
"We have proudly celebrated many achievements on the ground," said Dr. Abdel Wahed, "Through our program we have carried out six outbreak investigations in 2014 alone including, an investigation involving fava-beans distributed by a charitable NGO. These fava-beans caused oxidative stress and hemolytic anemia among glucose-6-phosphate dehydrogenase (G6PD) deficient individuals. Although this can be fatal under some circumstances, it is quite easy to control when we know the cause. Our job was to calm people down and show that this was merely a hereditary enzyme deficiency. We gave them the recommendation to avoid fava beans. In fact with such evidence our residents persuaded the charitable NGOs to replace fava beans with another food at its next delivery. Our residents also investigated mumps outbreaks in schools, providing the government with evidence for the need to introduce mumps vaccine in the routine expanded program on Immunization in Yemen, not to mention investigating the first case of Middle East Respiratory Syndrome Coronavirus in Yemen."
"We still have a lot to achieve," he added," As we now need to ensure that our Ministry of Health and Population (MOPHP) hires our Y-FETP graduates in leading posts. We also need to raise awareness about the role our graduates can play in the public health field. We have to find ways to make our program sustainable, and to find new mentors and supervisors to pave the way for further success. Of course, we have to find ways to incentivize those wishing to take on this role, and we have to make true efforts to raise the English Language capacities amongst our residents. At times we are constrained by security conditions in the country and other issues such as political unrest, and we are still looking for ways to overcome such hurdles. However, we are on the right track, and any program like the Y-FETP is a learning process."
Speaking of learning, Dr. Abdel Wahed stated that the Y-FETP is going to benefit from the English language course that will be funded through EMPHNET, yet it is still finding ways to fit this course within the residents' busy schedules. "Furthermore, we started a resident profile program designed to raise the competitive spirit amongst residents, where it displays the achievements of each. "It is funny how people are naturally competitive, our residents are now competing to be recognized, "he added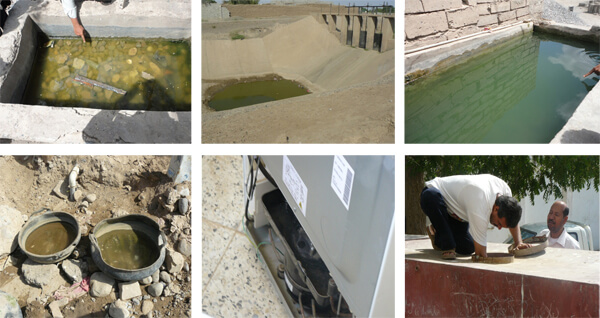 It's All About Teamwork
On a broader scale, Deputy Director of the Y-FETP Dr. Ali Bin Break claims that the Y-FETP is deeply involved in coordination. It does handle linking graduates, the MOPHP, and the program advisors. "We are moving forward in the right direction, and we are always looking to get technical advisors on board. We work closely with the Center for Disease Control (CDC) to look for ways to overcome external factors affecting the smoothness of our operations." Similarly, Dr. Basil Obaid, the first graduate from the Y-FETP attests to the fact that the program has gone a long way. "I was enrolled before the program was even introduced to Yemen, and I even started my education in Jordan. I was fortunate to see the best of both worlds, and was able to work on the Dengue and Chikinungunia outbreak in Yemen. I was fortunate to present the findings of my work on mass gatherings for the 20th GCC football Aden tournament, held in Yemen, 2010. I presented these findings during the 2nd EMPHNET Regional Conference held in December 2011 in Sharm Al Sheikh, Egypt."
All in all, the Y-FETP is living proof that team work and commitment pay off. It is a story of inspiration for anyone striving to build monuments of success from the ground up.