Success Story from Iraq: "Thank you Mentor"
Dr. Abdulaal Abdulhussain Chetheer Al-khumis lives and works in– Missan – Amarah – Iraq, as a Field Epidemiologist. Dr. Abdulaal is a Graduate from the Iraq–FETP (2012 cohort), and holds a M.B.CH.B. Degree from the University of Al-Basrah, and a Higher Diploma in Applied Epidemiology from the University of Baghdad. He is currently working as the Director of Field Epidemiology and Surveillance Unit, Missan DOH, Director of Acute Respiratory and Enteric Diseases Unit, Head of the Rapid Response Team in Missan, member of the Rapid Response Team in Iraq, representative at regional response team in Middle East assigned by EMPHNET, Executive Manager of NCD interventional trial in Missan, member of the national external monitoring and evaluation team for injury surveillance system, and member of the national technical committee for injury surveillance system.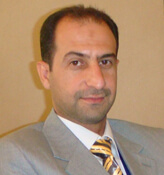 As part of the system in Iraq FETP, there is a long-term assignment in one PH unit or program started after completing the didactic course. The primary rationale for developing a mentoring program for FETP is that mentoring is an effective method through which skills may be developed. Mentoring emphasizes skills development through the exchange of experience between a more skilled or experienced person and a person seeking those skills. My long assignment was at the Iraqi Injury Surveillance System (IISS); a hospital based sentinel surveillance established in 2009; as I was interested in injury and violence epidemiology and prevention. US CDC and WHO are the main technical partners for this project in Iraq.
My mentor, Dr. AbdulSalam S. Sultan, the executive manager of IISS, was a very distinguished person. He is internist and worked as director of Continuous Medical Education (CME) Section in the Human Resources Training and Development Center (HRTDC) in the Ministry of Health.  His interests have included health promotion, learning, hospital management and teaching of communication skills in clinical practice. He studied Social Anthropology and was a member of Eastern Mediterranean Advisory Committee on Health Research (EM-ACHR) and of the European Association for Communication in Healthcare (EACH).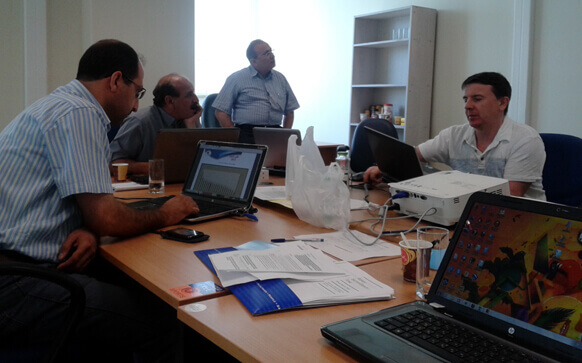 I still remember that day when I first met him in his office and he friendly provided me sufficient details to understand the rationale, structure, and operation of the mentoring program. Together we listed our expectations from this pioneer mentorship and defined skills development objectives for me. By achieving these objectives, I should be able to plan on upgrading the current IISS, carry out monitoring and evaluation of IISS and of injury prevention programs, participate in the development of a major government approved document on injury, such as a national annual report, policy or action plan and finally to author a peer-reviewed publication in the violence and/or injury epidemiology and prevention area. All of these skills were aimed to successfully help implement a violence and/or injury prevention program in the country.
Since the beginning he showed motivation and commitment to take advantage of all opportunities to help me develop these skills, and objectively assess and discuss progress towards developing them. He secured that the interaction between mentor and mentee should be respectful and honest. Obviously, his role and responsibility was to develop an agreed program of activities with me. My responsibilities were:
1.   Compiling and analysis of IISS data to perform a short summary report highlighting the main domains of person, place and time.
2.   Monitoring of accuracy, timeliness and completeness of the forms to provide a monthly brief indicators report.
3.   Participating in supervisory visits to the surveillance sites to monitor data entry process, and help provide on the job training.
4.   Areas of my interest were road traffic injuries (RTIs), violence and child injuries.
Over nine months of agreed activities he pay careful attention to the communication plan by establishing and maintaining a schedule of face to face meetings and verbal communications.
He strived to ensure me develop the desired skills while carrying out these activities through sufficiently intense and sustained communication and collaboration.
"It is the recognition that there is a need for and a value in, transferring my experience and skills acquired over the years to lesser experienced junior professionals working in the injury field" he said, exploring his primary motivation for mentorship process.
In addition, he disclosed that bidirectional learning and affiliation with Iraq FETP were other incentives.
Hence, I engaged with him in a sufficiently intense and targeted way around execution of the activities to realize the full benefits of working in a mentoring relationship.
With CDC injury expertise, we finalized injury surveillance operations manual, revised standard injury surveillance forms and drafted the annual injury report (2010-2012). As an output for my assignment under his guidance, I developed scientific manuscripts from available data regarding pattern and incidence of RTIs and burns, unintentional child injuries and pre-hospital trauma care, all accepted in TEPHENET and EMPHNET international conferences in 2012 and 2013.
After graduation, I was assigned, with another FEPT resident, to hold an external monitoring and evaluation for IISS. I developed a set of operational indicators in a standard checklist and work plan. Later on; they have been adopted by Ministry of Health as a national plan for evaluating the IISS. Currently I work on training the data collectors and entry staff involved in the IISS. I am working on publishing our research in a peer reviewed international journal.
To me, I was lucky, we were well matched mentor and mentee pair with the overall objective of promoting skills development for injury and violence prevention.
Author: Abdul Aal Abdul Hussein Chetheer. Epidemiologist, I-FETP Graduate