Dr. Mohamed Elghazaly Shares his Experiences Fighting Ebola Outbreaks in Liberia
Dr. Mohamed Elghazaly MD, MPH is currently a Field Epidemiology Training Program resident in Egypt. He is working as a Zoonotic disease focal point at the Egyptian Ministry of Health and Population (MOHP-EGYPT). He is also one of the rapid response team members working at the central level, and now he is sharing with us his experience working on the Ebola outbreak in West Africa.
How this Story Came to Be
"Our Field Epidemiology training Program FETP coordinator Dr. Sahar received a request from the Global Outbreak Alert and Response Network (GOARN) stating that World Health Organization (WHO) requested the help of interested FETPs to participate in Ebola outbreak response efforts currently made in West Africa," said, Dr. Elghazaly, "I did not think twice about this opportunity, and applied for this task as soon as I received the email. It took me about a month to finalize travel arrangements and paperwork, after, I got the MOH approval. With the support of the MOH, I was on my way to Liberia through Geneva. Initially I was going for 4 weeks but the World Health Organization (WHO) country office requested that I extend my stay. I ended up staying for two and a half months."
As soon as he arrived to Liberia, Dr. Elghazaly was expected to be at the WHO country office. "I remember arriving at 4 AM and being at the office at 7:30 AM, so you can imagine the conditions that we were required to work under. There was no time to waste, everyone there was working around the clock to make progress," he explains.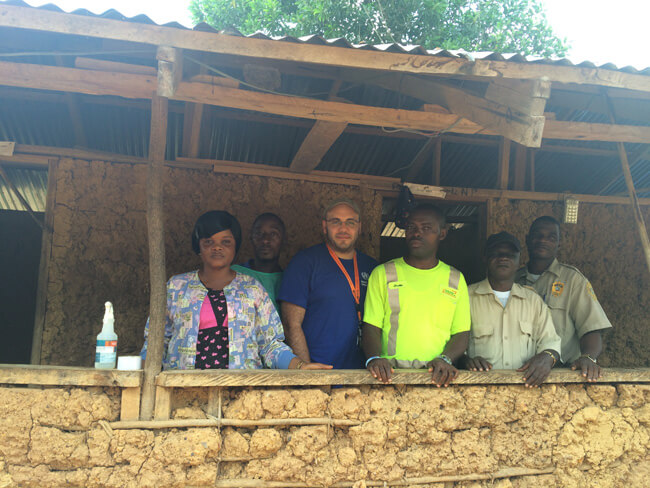 The Work
At first he was assigned to work at the central level to support Epi/Surv activities. "My tasks included writing proposals, writing Terms of Referenced (TOR) for contact tracers, reporting case investigators and preparing a flowchart for data flow within county and district levels. I also helped to prepare a presentation to be distributed to epidemiologists upon their arrival.  The aim of these presentations was to get new comers up-to-speed and to give them a quick update on the situation and the performed activities," he added.
After working at the central level for three weeks, Dr. Elghazaly requested to be assigned to work at the county level. Essentially, he wanted to apply skills that he had gained from his FETP training. "Fortunately, I was assigned to Bomi county. There I worked closely with the CDC, UNICEF, Red Cross, IOM, ACF, and County health teams, alongside other local organizations," he said, "upon my arrival, I worked closely with CDC officers. Our task was to help the Bomi county team to validate the data entered and to perform data cleaning. For me, this was a chance to train the county team on different programs like Excel and Epi-Info. Once the data was clean and valid, it was time to move-on to a new task."
This was when he took up case investigation and contact tracing. "This was a real challenge due to lack of resources and lack of trained personnel, but in collaboration with CDC and myself representing WHO, we accompanied the county health team for case investigation and contact tracing tasks. We supervised safe burials, social mobilization activities, and community awareness campaigns. In collaboration with the county health team, we conducted mass fever scanning for hotspots, whereby treatment was given and a follow up visit after two days was made to check on those who had fever," He added.
During his stay, the MOH in Liberia later made a decision to change the data base program used from VHF (Epi-info module) to another system (DHIS-2). Dr. Elghazaly helped to facilitate the training for the county health team. The training was conducted in a 4 day workshop that saw case investigators, surveillance officer, data management team members in attendance. "There was a need for coordination between different partners in Bomi county. Since WHO has a role in coordination of health clusters and I was representing WHO, this meant that  in addition to my supporting role as an epidemiologist, I was a WHO field coordinator in Bomi county. Within this designation my tasks included; the mapping of resources from different partners like UNICEF and Red Cross. One major challenge was coordination between IOM who run the Ebola treatment center in Bomi county and the health team in Bomi county. This was a great achievement because there was a lot of resistance from the parties we were working with."
"I started work in Bomi county by the end of October 2014, by 25 November 2014 we had Zero cases in Bomi county and by the time I left in Mid December 2014 there were still no cases recorded," he added, indicating that the outcomes from this experience were positive.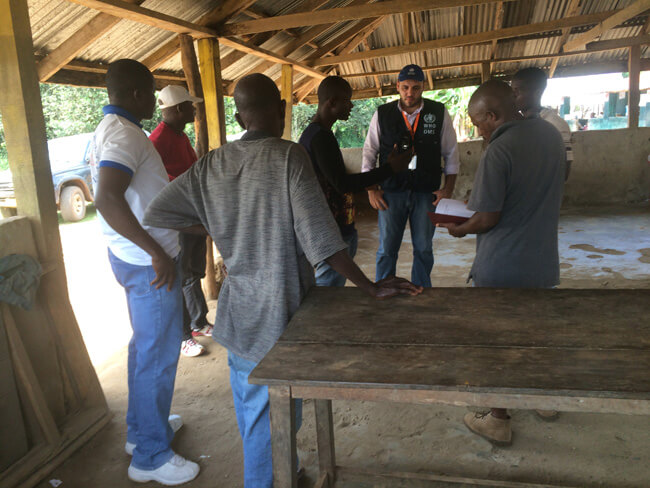 The Challenges
Despite these positive outcomes, the work did come with its own set of challenges, "The situation in Liberia was the worst among the countries affected by Ebola Virus Disease (EVD)  in west Africa, as in the second epidemic wave, the number of cases in Liberia was alarming. A rapid intervention was crucial in order to response to the EVD outbreak in a prompt manner," explained Dr.  Elghazaly.
This gave rise to much needed support. The Ministry of Health and Social Welfare (MOHSW) in Liberia was requesting rapid response and proper interventions. The MOHSW had the potential to overtake and response to the outbreak, however support was needed in different parts of the country.  On the bright side , this gave a chance for capacity building and the training of staff on Epi/Surv activities.
Dr. Elghazaly explained that restoration of health services was a major challenge for healthcare workers in other health facilities (other than Ebola treatment centers) as there was a lack of triage and IPC material for them to work with.
"Social mobilization was the key factor contributing to EVD control and prevention. Some communities were still in denial that the Ebola outbreak is real. Others were treating EVD survivors in a very bad way and were rejecting their re-integration into the community. Although, in such cases, affected groups include the EVD survivors and their family, a whole community can still be stigmatized from neighboring communities if an EVD case appears," he explained.
"Discrepancies in data between the daily sites and VHF (data base for EVD in Liberia), was another major challenge we had to overcome. For decision makers and stakeholders to take a certain decision valid data was needed. We were, therefore, also faced with coordination problems and the mapping of resources, as there was a lack of coordination especially at the county level and district levels between different national and international organizations. This often led to a waste of resources and duplication of work," he said.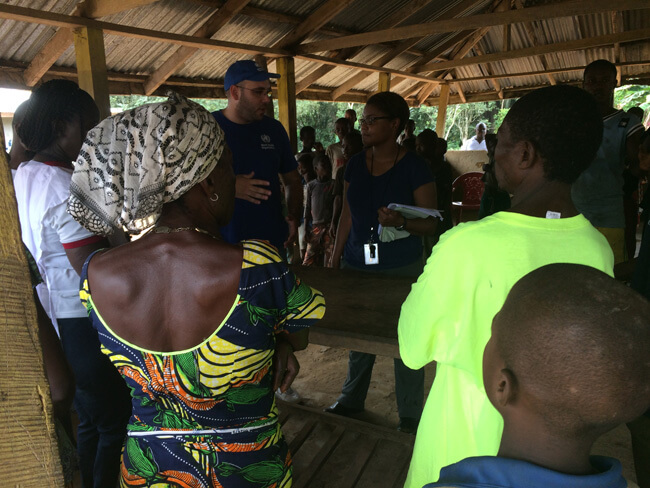 The Lesson
All in all, the experience was a good one, according to Dr. Elghazaly, as it offered opportunities for capacity building, and it also served to lower social stigmas associated with Ebola while raising raise community awareness. It created opportunities for him to develop a greater understanding for the underlying resistance of communities.
"At the end, Ebola is like any other disease. You gain control basically by strong contact tracing, social mobilization and a strong leadership," He said.