EMPHNET Collaborates with the Jordan Ministry of Health, UNICEF and other International Organizations in Pursuit of Healthier Schools and Happier Childhoods
For the Syrian children currently living in Jordan's refugee camps, fleeing their homeland in the aftermath of civil war may have granted them security. However, security did not come to them with a guarantee of a lofty or healthy lifestyle. These children still have limited access to healthcare services. Therefore, some of them continue to suffer from chronic and life-threatening diseases. In schools, the health of students continues to present cause for concern. In Zaatari camp alone, almost half of the schools do not have a school nurse, and only four schools have a designated social worker. A single classroom houses 50 students in an atmosphere where there are limited facilities, and as far as health education is concerned, 13 out of 24 schools provide health education classes at random intervals. Within these classes instructors do not rely on textbooks or other sources of reference. These findings are based on an assessment conducted by EMPHNET on February 18, 2016.
Within such conditions the pressing need for a coordinated and comprehensive school health program arose. Accordingly, a partnership between EMPHNET and UNICEF for an Integrated School Health Project (ISH) was launched in January 2016. Within this partnership, the ISH project was presented as a seven-month initiative to be implemented in schools and Makani centers within the Syrian refugee camps of Jordan namely: Zaatari, Azraq, Emirati Jordanian Camp (EJC), Cyber City Camp (CCC) and King Abdullah Park. The goal of the project was to fill the gap in the existing ISH programs being implemented for this demographic. Therefore, throughout the seven months, EMPHNET worked closely with UNICEF, UNHCR, the Ministry of Health (MoH), the Ministry of Education (MoE) and other NGOs and CBOs to contribute to the program's success. Now, after five months into the project, we heard the Zaatari camp community as it told us its story.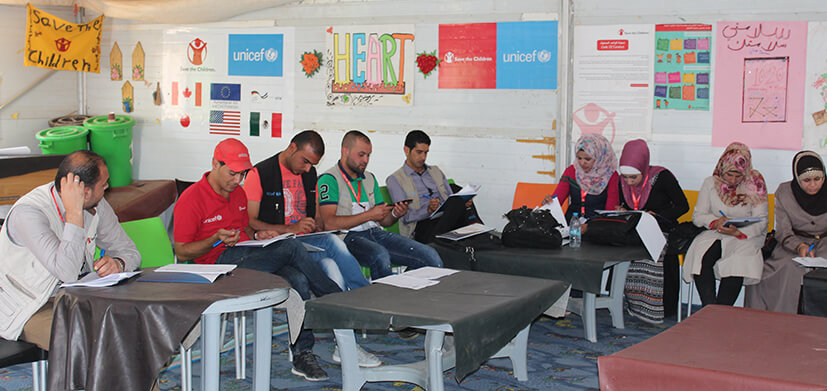 Ms. Sukaina Jdaifat, a principle to the Kuwait School which enrolls a student population of 500 girls in the morning shift and 650 boys in the afternoon shift, said "I can honestly say that all students in the school have benefited from the ISH project. The students sit for periodical checkups and their health records are now documented more accurately than ever before." She also stated that parents are now more aware of the health needs of their offspring. "However, a logistic challenge still exists when a student needs to be admitted to hospital and this is due to the difficulties that refugees in general face when seeking permits to leave the camp. "
Ongoing Care and Ongoing Impact
She added, "Although the school health project has positively impacted the health status of school students, this is not to say that the road ahead is free of obstacles We still do face a problem with the parents sometimes, as they themselves are not aware of the health needs of their kids. In some severe cases where a child needs to be treated, you would find that the parents do not properly evaluate or understand the urgency the situation. This could be due to harsh living conditions which force parents to not give their kids the care they need. At times, even seeking medical services in the camp is a challenge in itself, as parents have to stand with their kids in long lines at clinics or to wait for appointments given for further dates. Naturally, this could make them too lazy to follow up on their children's health."
Ms. Jdaifat further pointed out that to resolve these challenges, the awareness sessions provided through the ISH project to healthcare workers remains a big help. "Some parents are simply misinformed and they are not aware that maintaining the health of their children is an ongoing process and so, they expect to see positive results from the first checkup" she said.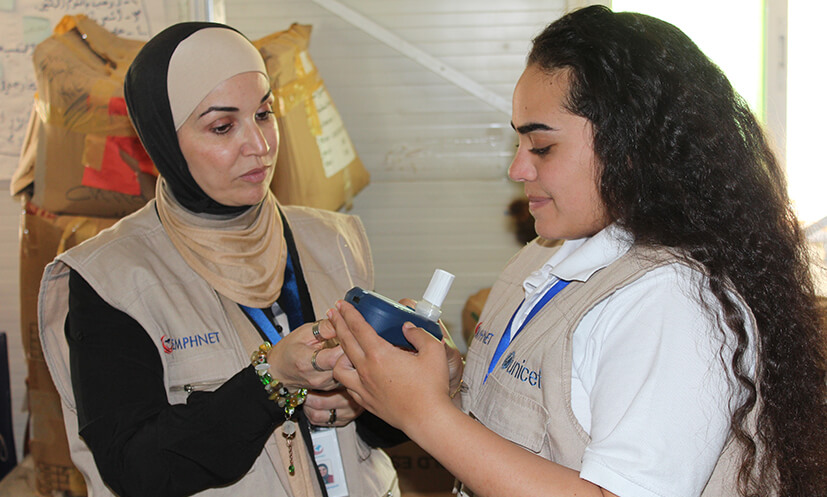 "Awareness sessions provided under the umbrella of the program will prove to be useful. These sessions focus on personal hygiene, balanced diet, and other issues of concern to children and youth. However, I do think that organizations should continue to place children at the forefront of their priorities. Their medical needs should be met with speed. However, I will say that the best achievement this project has made to date is the speedy follow up on cases. I used to be a principle to another school in the camp that implemented a school health project prior to this one and I can honestly say that the improvement is noticeable, and documentation of health cases has become more accurate. "
Working Towards Healthier School Environments
School teachers also stated that they believed that the ISH project served to create a cleaner and healthier environment in schools. Iman Al Issa, who teaches English to First Grade girls said, "I have been teaching for one year and when I first started working in Zaatari camp schools, I saw that the student's standards of personal hygiene were extremely low. They would come to school with unclean clothes. They would even come to school without washing their faces. I understand that this is partly due to the fact that their living conditions in the camp are harsh, but a lack of awareness on the part of the parents is also to blame. The ISH project definitely will improve some of these conditions, as the training sessions provided to healthcare workers focus on the perception and best practices of personal hygiene."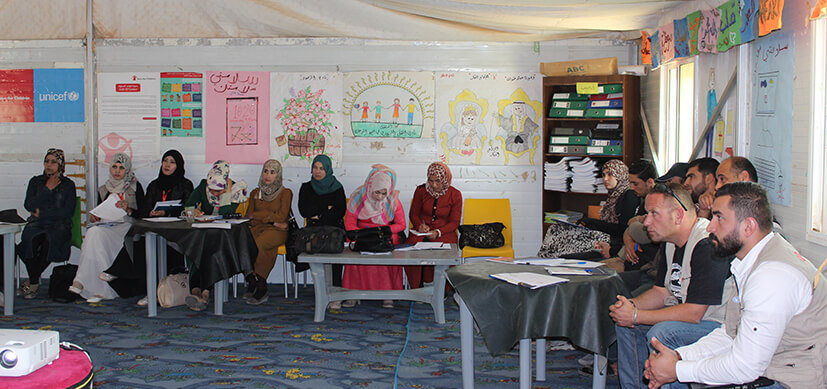 Second Grade Teacher, Ayat Al Khaldi added that the program helped introduce weekly awareness sessions about many health concerns. She said, "Now, we speak to our students about oral hygiene and personal hygiene. We even introduced a program called the "Queen of Cleanliness" where we recognize the cleanest and most tidy girl in the class by giving her a crown. Naturally, this gesture motivated the students and now the girls make an extra effort to come to school clean in order to win this title. We also launched the cleanest classroom competition and students themselves started promoting a cleaner classroom"
"The students used to fear immunization but the ISH program made immunizations and medical checkups easy and comfortable. During such checkups students are treated with care and with time they got used to them. My students even started asking when their next checkup will be, "added Second Grade Teacher Areej Al Sarhan "However, I still feel that schools need to have a health room in which they can access awareness pamphlets and material designed to raise awareness for teachers and students alike."
"I believe that we as teachers can benefit greatly from ongoing awareness sessions. We want these sessions to focus on health. We have a problem in our schools where some students are not in the class they are supposed to be in. A girl would be 12 years old and still in first grade. So you can imagine how much health education we need in order to respond to the diverse health needs of students within the same class, "adds Ms. Al Khaldi.
Knowledge Sharing for Better Health
Within its contribution to the ISH project, EMPHNET was instrumental in facilitating sessions related to health awareness. These sessions were designed to assist healthcare workers from different organizations working with Makani centers . The sessions focused on several topics including fitness, balanced diet, smoking, and other health related issues. After one such session, Field Assistant from Save the Children Fatma Jdaifat said, "To me, these workshops allow me to exchange experiences with my colleagues from the field. I do think that we need to learn more about the techniques we can use to spread awareness to the kids in the camp. I feel this is more important than teaching them about health as awareness is the bases of a healthier lifestyle. I also feel that the sessions given about balanced diet are also very useful. The lack of awareness seen amongst kids concerning issues related to personal hygiene, diet, and smoking are primarily due to lack of education, the environment, and lack of resources, poor living conditions and neglect, and it is our job as field workers to find a way to work around such conditions."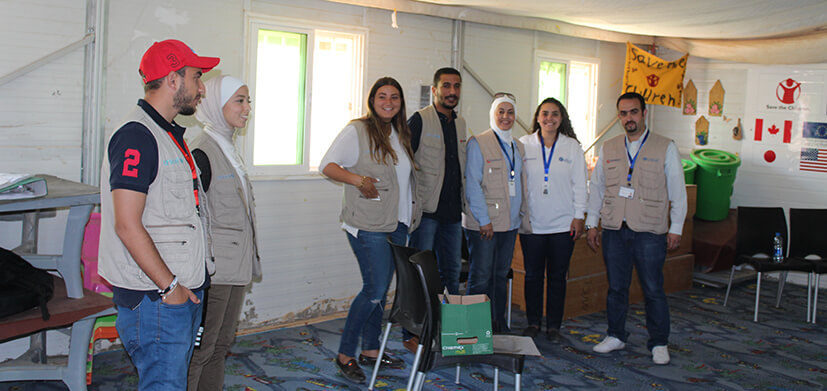 "I especially learned new things about smoke control and the spread of the smoking habits from these awareness sessions" said her colleague Mahmoud who is also a field assistant with Save the Children "I also found the information provided about the balanced diet to be especially useful. I can use this information to encourage kids to maintain a balanced diet just by sticking to the food they have available in their homes. . For example, just from these workshops I also learned that if you sleep in the same place a smoker slept, you will continue to inhale second hand smoke."
Mahmoud further added that he really enjoyed being in these sessions. "Such sessions are long overdue as we needed this information from a long time before" he added. "I just wish that such workshops should be conducted over longer periods of time and even over several days," He further explained that longer workshops will give health and field workers a chance to ask more questions and to interact more.
" I feel that the kids in the camp do need our attention and they need more than anything else our smile. I feel we need to always educate ourselves on how to give these children psychological support. After all, when you teach children to take better care of their health, you do reinforce the idea in their heads that they are important and their health is important." He said.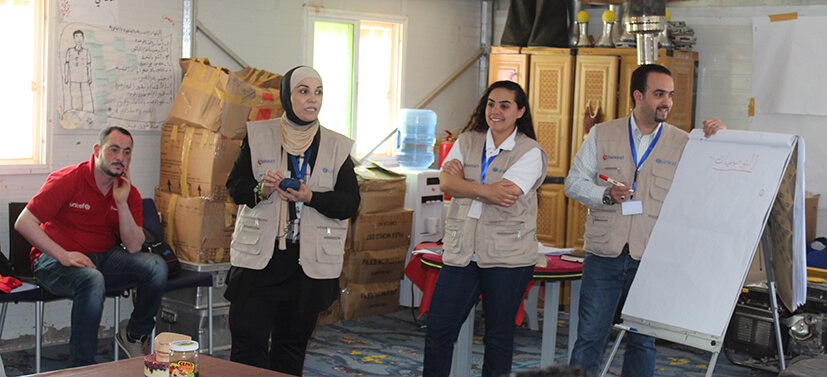 Fatima added that those workshops provided her with new information, information that is significantly different from the information she has been receiving for the past three years. Fatima studied IT in university but she found herself more drawn to childhood development and education. "At the end you need to work in a field you like in order to really make a difference "she said.
Bushra and Nazma, two field assistance, focusing on the field of psychological support stated that they found the instructions given by EMPHNET on maintaining balanced diets to be especially useful. "These workshops allowed us to draw our attention to aspects we used to ignore. For example, smoking is a big problem amongst youth because they are working and financially independent and this workshop drew our attention to the different things we can do to spread an anti-smoking culture, "said Bushra.
The ISH Project is still in its first phase but voices on the ground confirm that its impact has been high. After all, when you work directly with the people involved in a community, you do make a difference. The room for improvement is always there, but the positive outcome remains a source of true inspiration.