GHD|EMPHNET Contributes to Polio Eradication Efforts Across the EMR
Afghanistan and Pakistan are two of the three polio endemic countries worldwide and both countries fall within the Eastern Mediterranean Region (EMR). According to the Global Polio Eradication Initiative (GPEI), Afghanistan's country campaigns must focus on reaching children who have been consistently missing their vaccines. While Pakistan has made progress in this area, there still remains unvaccinated children in high-risk areas across the country.
Furthermore, the GPEI also states that "Afghanistan and Pakistan must work together to stop the virus for good, with an emphasis on high-quality immunization activities and surveillance to close remaining immunity gaps and to quickly find the virus wherever it is hiding."
Given that population displacement, economic instability, and political conflict are common to this region, the risk of importing the virus into neighboring countries is particularly high.
Ministries of Health, the World Health Organization (WHO), the Centers for Disease Control and Prevention (CDC), and other partners are joining efforts to eliminate this risk and to make the region, and the world at large, polio free.
GHD/EMPHNET has joined efforts with these partners to support achieving and sustaining polio eradication.
Afghanistan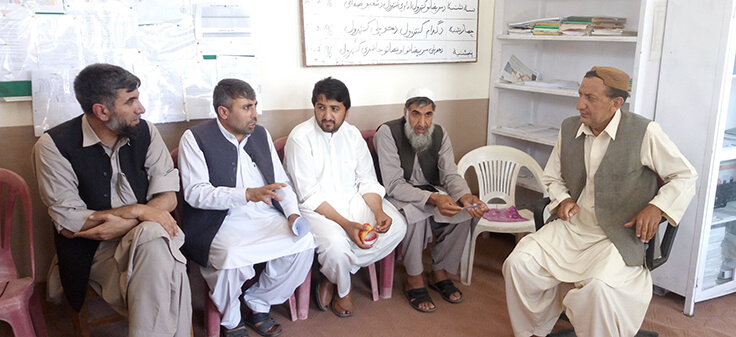 In Afghanistan, the Demand Creation Project (DCP) serves this purpose. It represents a collaboration among the National Expanded Program on Immunization (NEPI)/ Ministry of Public Health Afghanistan, the Centers for Disease Control (CDC), and GHD/EMPHNET. The project is mainly designed to involve and engage the community for demand generation to vaccination in the high-risk areas of Afghanistan, where the wild polio virus and other vaccine preventable diseases (VPDs) are prevalent: Kandhar, Helmand provinces in Southern Afghanistan and Nangarhar, Laghman and Kunar provinces in eastern Afghanistan.
Dr. Dastagir Nazary, the NEPI Manager in Afghanistan stated: "Under the Demand Creation Project, active participation of the people in community orientation meeting, participation in interview both in baseline and intervention were incredible in all sites. This was all because of explaining the importance of vaccination for all VPDs preventable disease including the Polio. Commitment of the study team and the audience for change is tangible everywhere in the field right after the implementation of project."
Egypt
Additionally, GHD/EMPHNET is supporting the Ministry of Health and Population (MoHP) in utilizing its strong polio eradication program experience. Through the Polio Legacy Project Investments to sustain polio essential functions, to accelerate measles/rubella elimination, and strengthen the routine immunization in high-risk areas are made to this effect. Through this joint effort, Egypt's domestic polio assets were used to address the issue of low population immunity for measles in three frontier governorates. These governorates are where pockets of continuously missed children were identified during the 2014-2015 measles outbreak.
This project supported providing evidence-based data to guide the use of polio assets for measles and other vaccine preventable disease surveillance and response strengthening. In addition, it provided data on methods of reaching high risk populations for surveillance and routine immunization.
Dr. Esam Othman, the EPI Manager at Egypt's MoHP stated that the Polio Legacy Project helped the Ministry in utilizing polio assets to reach unvaccinated children in high-risk areas.
Sudan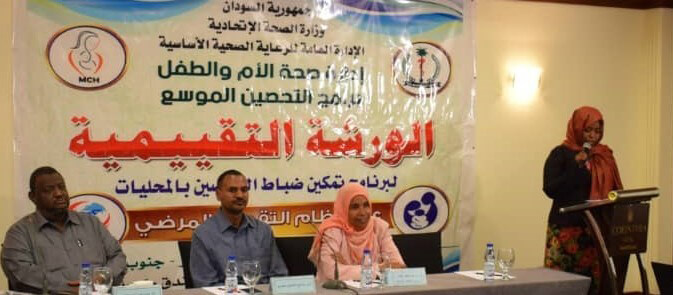 In Sudan, the Public Health Empowerment Program – Surveillance for Polio Officers (PHEP-SPO), was developed by GHD/EMPHNET and customized by the Federal Ministry of Health (FMoH) in Sudan. The PHEP-SPO is a twelve-week program comprising three training workshops with two periods of field work, one month each. It covers subjects pertaining to surveillance system, outbreak investigation, and leadership and management. The training approach is based on principles of adult learning and it utilizes a variety of effective training methodologies. This is to fill the gap in the practices of vaccine-preventable disease/polio, as they are burdened by the lack of knowledge and insufficient skills to perform the assigned duties.
As an outcome of this program, the EPI surveillance officers were delegated by the FMoH to develop the surveillance reports at the local level. The cohort members investigated and reported 155 cases of VPDs. The trainees actively participated in two rapid response missions to investigate and manage Acute Watery Diarrhea outbreaks in their states. Moreover, the trainees have designed 17 projects based on their assessment of existing problems in their localities. These problems were related to surveillance, vaccine coverage and capacity building.
Dr. Nada Jafar, Head of Child and Maternal Health at the FMoH stated that the PHEP-SPO contributed to decentralizing polio surveillance. This has strengthened surveillance at locality levels, helped develop supplementary immunization activities, and microplans, supported sub-national vaccination campaigns, and increased demand creation for vaccines. She added that the program helped build the national and subnational capacity in the management of polio and routine immunization projects and activities, as well as strengthening surveillance and outbreak investigation of other VPDs.
Next Steps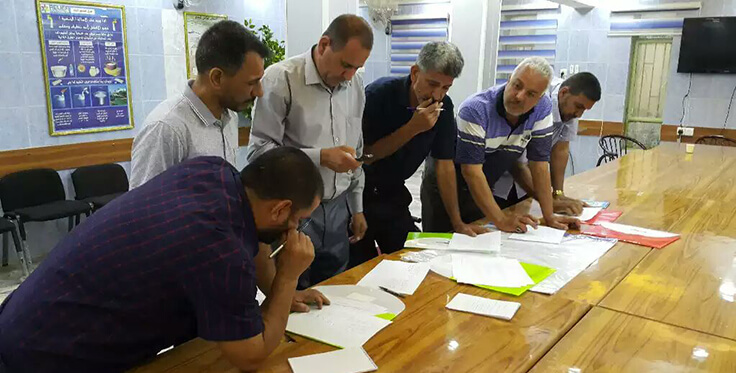 Further collaborations between GHD/EMPHNET and countries of the region are taking place in regard to polio eradication and routine immunization. Recently in Iraq, GHD/EMPHENT supported the Ministry of Health in launching the Appreciative Inquiry (AI) initiative. The initiative aims to improve vaccination coverage at all levels within a health care system through coordinating with development partners and local authorities for its implementation.
Also, in Iraq, GHD/EMPHNET supported training workshops on routine immunization microplanning in the provinces of Babel, Baghdad Al-Kerkh, Diwaniya, Diyala, Kerbala, Muthana, Thi-Qar, and Wasit.
Furthermore, GHD/EMPHNET supported Iraq in conducting Acute Flaccid Paralysis (AFP) surveillance training to improve AFP surveillance sensitivity and quality to detect and response to any polio importation on timely manner. These training workshops were conducted for high-risk provinces: Anbar, Kerbala, Muthana, Ninewa, and Salah Uddin.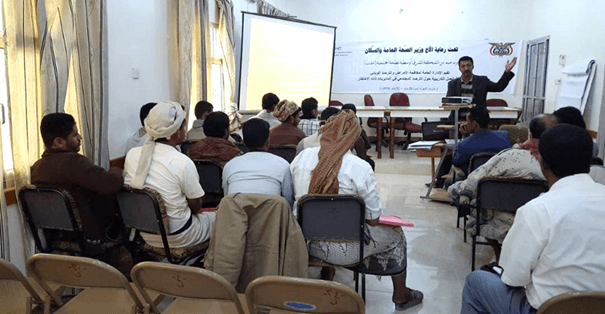 Similarly, in Yemen, a community-based initiative aiming at strengthening the health system at the district and sub-district levels, was also introduced for AFP to enhance surveillance activities in the country. This capacity building program succeeded in empowering the local health system through establishing a technical and administrative link between the community volunteers and health care providers at health facility, district, and governorate levels.
The program started with adapting/updating a training curriculum to improve AFP surveillance in 52 low-performing districts. In addition to AFP, as the main focus, the training modules and reporting tools included priority illnesses targeted by Community-Based Surveillance (CBS) such as Measles, Rubella, Diphtheria, Cholera and Neonatal Tetanus.
The assessment of the program was based on the learning capacities, quality of the materials provided, relevance of the training to local needs. The overall evaluation revealed excellent feedback by the participants. Positive feedback was received by health authorities and local communities in the 51 targeted districts in addition to institutionalizing the initiative with the Ministry of Public Health and Population for further expansion and enhancement at the national level.
The Ministry of Public Health and Population (MoPHP) in Yemen, in collaboration with GHD/EMPHNET, and the WHO, implemented the PHEP-SPO between July and October 2017. This in-service training program was designed to equip officers with the skills they need to complement their current roles within the Ministry and help sustain polio eradication and contribute to strengthening the national health system. The MoPHP and partners are currently implementing the second cohort of the program.
All these these activities and collaborations fall in line with GHD/EMPHNET's aims to achieve better health for the communities it works within. It partners with different entities to achieve this goal. In the area of Polio and Immunization, many achievements have been made to date, however there is yet more to be done in order to ensure that the world is polio free.